Update on Annual Persons Day Breakfast
November 19, 2019
The annual Thunder Bay Persons Day breakfast held October 30, 2019 at the Finlandia Club was once again a success.  This event is a fundraiser, with proceeds going to the Women's Legal Education and Action Fund (LEAF) National, and its local in Thunder Bay. The breakfast commemorates the anniversary of the 1929 Persons Case- a landmark decision for equality in Canada.
The Keynote Speakers  – Rosel Kim, LEAF National Staff Lawyer, and Dr. Mariette Brennan, Associate Professor at the Bora Laskin Faculty of Law  – spoke about current issues impacting substantive equality rights for women and girls in Canada which were topical, relevant and informative.
OA Associate lawyer Hayley Yorke was one of the organizers instrumental in the positive outcome of the breakfast, and is the Founding Membership Coordinator.  OA Associate lawyer  Elizabeth (Liz) McLeod is a Board member of LEAF, and also provided assistance in adding to the success of the event.
A BIG thank you to all those who attended, and supported LEAF Thunder Bay.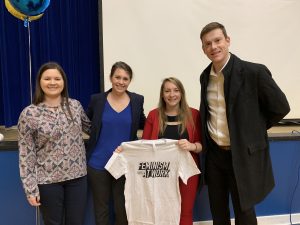 Shown in the photo from l to r:  Erin Hansen (IPC Placement Student), Liz McLeod, Hayley Yorke and Warren Mouck from OA.